So, you plan on getting married or you've already made the big step but couldn't decide on a place to spend your honeymoon yet. Don't worry – we know all about the most jaw-dropping honeymoon destinations for scuba divers. Plus, they're also some of the best places to get a diving certification, in case one of you hasn't (literally) taken the plunge yet.
Mauritius
The island nation of Mauritius lies in the Indian Ocean some 2,000 kilometers (1,200 miles) off the south-east coast of the African continent. The Republic includes the main island (Mauritius) and the smaller islands of Agaléga, Rodrigues, and St. Brandon. With an interesting blend of Indian, African, and European influences, Mauritius will dazzle even the pickiest of travelers.
The islands are surrounded by coral reefs and divers have over 100 dive sites to choose from. Diving in Mauritius is nothing short of excellent. The nation is a haven for those that enjoy (and who doesn't) crystal-clear underwater visibility and temperate waters year-round.
Diving season: Best from October to December and March to April, but the conditions are good all year long
Best spots: Stella Maru, St. Jacques, The Cathedral
Marine life: More than 1,700 different marine species, including reef sharks, grey sharks, bull sharks, hammerheads, dolphins, stingrays, barracudas, groupers, giant trevallies, wrasse, tuna, and squirrelfish.
Water temperatures: 22° to 28° C/71° to 82° F.
South Ari Atoll, The Maldives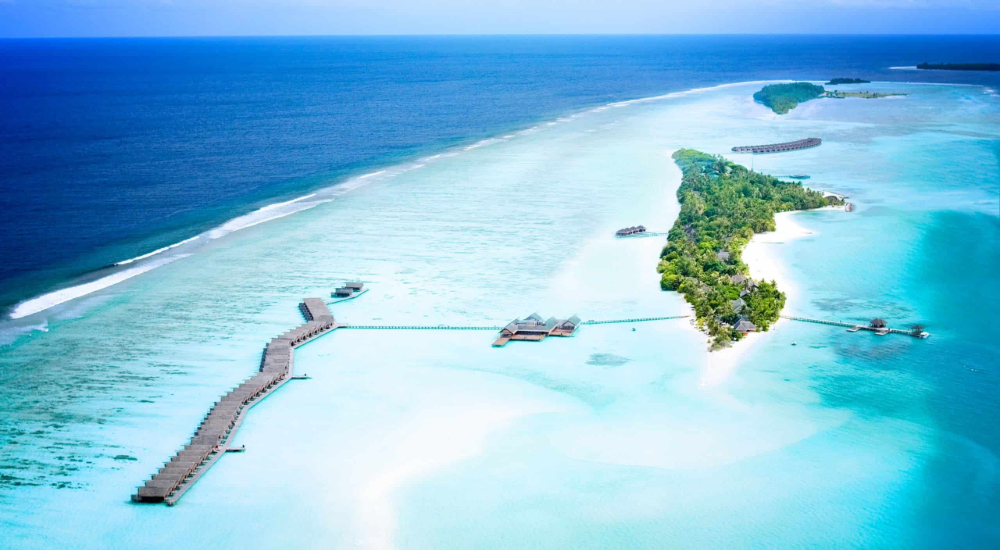 The Maldives is an archipelago made up of 26 natural coral atolls, which total over 1,000 islands spread over roughly 90,000 square kilometers (35,000 square miles). It's one of the most idyllic and romantic destinations on Earth and has become one of the world's best scuba diving spots too. Know for its currents that attract the big stuff and outstanding visibility, The Maldives will always be high on our list of best honeymoon destinations for scuba divers.
We recommend Alifu Dhaalu Atoll, also known as South Ari Atoll, which lies south of the line between the channels of Himendhoo Dhekunukandu and Genburugau Kandu. It's a great place to get up close to iconic creatures such as whale sharks and manta rays. And, as opposed to its northern counterparts, the South Ari Atoll has shallower and easier dive sites, thus perfect for beginner divers.
Diving season: December to March, but the conditions are good all year long
Best spots: Kuda Rah Thila, Maamigili Beyru, Seventh Heaven
Marine life: Over 2,000 species of marine animals, from the big stuff such as whale sharks, dolphins, tuna, to the smaller ones such as moray eels, lionfish, scorpionfish, fusiliers, nudibranchs, and other critters.
Water temperatures: 26° to 30° C/80° to 86° F
Bora Bora, French Polynesia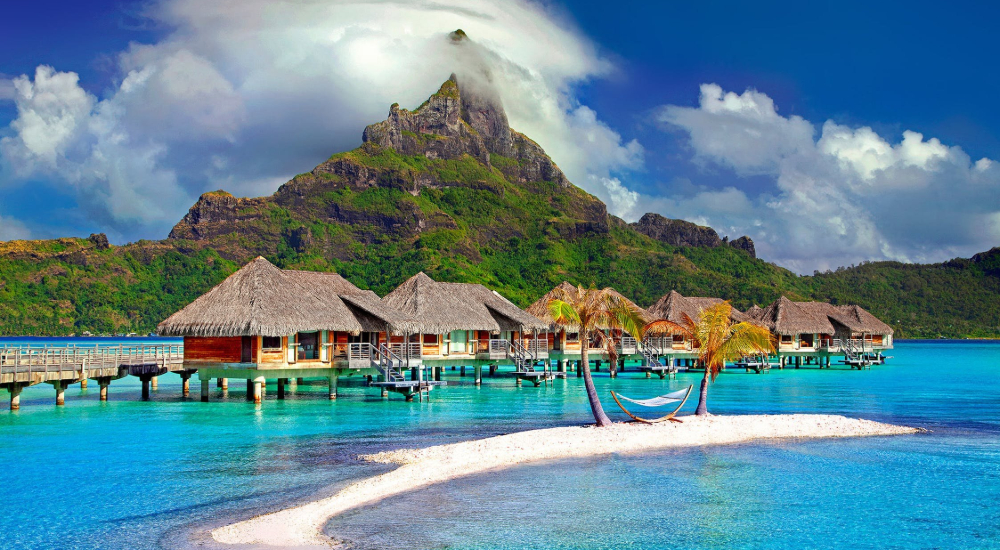 French Polynesia consists of 118 dispersed islands and atolls, scattered over more than 2,000 kilometers (1,200 miles) of ocean, and of which only 67 are inhabited. Wherever you go, you're bound to find some spectacular diving opportunities. However, only 11 of the islands in French Polynesia boast diving centers. If we were you, we'd pick the Jewel in the crown of French Polynesia – Bora Bora.
Bora Bora is a honeymooners' wonderland, with its white-sandy beaches, picturesque bungalows, blue lagoons, and its surrounding barrier reef. Inside the calm lagoon, you'll discover the perfect place for underwater exploration if you are new to diving or a little nervous about venturing out into the open ocean. Outside the reef, you can also find plenty of superb dive sites for advanced and technical divers.
Diving season: Year-round
Best spots: Muri Muri, Tapu, Toopua
Marine life: There are nearly 2,000 different species of aquatic animals swimming around Bora Bora, including humpback whales, manta rays, eagle rays, lemon sharks, whitetip sharks, blacktip sharks, napoleon wrasses, sea turtles, triggerfish, scorpionfish, and marbled groupers.
Water temperatures: 26° to 29° C/80° to 84° F
Beqa Island, Fiji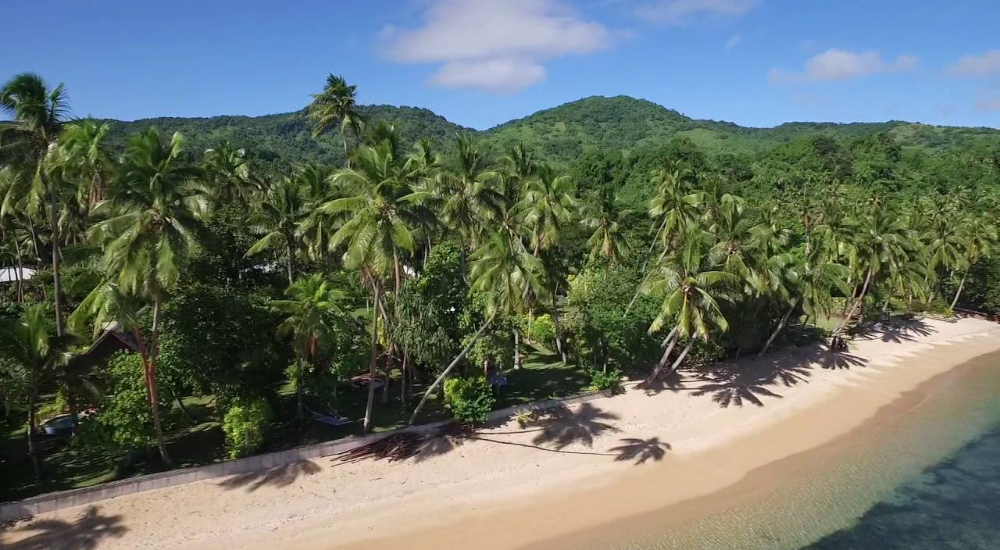 Located in the South Pacific Ocean some 2,000 kilometers (1,300 miles) northeast of New Zealand, Fiji is one of the dreamiest places on Earth. The archipelago is made up of 330 islands and more than 500 islets. Its beaches offer complete seclusion for postnuptial relaxation. The luxe resorts here offer activities like scuba diving, snorkeling, and surfing for those that are interested in more than just soaking up the sun on the beach.
Beqa Island is one of Fiji's most cherished diving destinations. There are said to be more than 100 dive sites in the greater Beqa area. Underwater, you can find everything from fringing reefs, bommies to pinnacles, and even a few wrecks. And should we mention the famous shark encounters inside Beqa Lagoon? The locals themselves have been swimming with sharks for thousands of years.
Diving season: Year-round, but best from May to October
Best spots: Carpet Cove, Seven Sisters, Sea Fan Alley
Marine life: More than 1,200 species of fish and 390 species of soft and hard corals can be seen around the Fijian islands, including tiger sharks, bull sharks, silvertip sharks, manta rays, eagle rays, giant trevallies, mahi-mahi, tuna, wahoo, sailfish, mackerels, marlins, Maori wrasses, and more.
Water temperatures: 25° to 28° C/77° to 82° F
Saint Lucia
The volcanic island of Saint Lucia is situated in the eastern Caribbean Sea on the boundary with the Atlantic Ocean. Its coast is home to volcanic beaches, fringing reefs, luxurious resorts, and fishing villages. Saint Lucia's tropical weather, stunning natural beauty, and cultural riches are a draw for honeymooners and vacationing couples worldwide.
The island offers world-class diving, the true Caribbean experience characterized by impressive underwater flora and healthy coral reefs. The sloping reefs, pinnacles, steep walls, and shipwrecks await divers of all levels. Many of the best dive sites of St. Lucia are concentrated within the Soufriere Marine Reserve, a real diving nirvana filled with healthy coral and colorful reef fish.
Diving season: Year-round, but you may want to avoid the hurricane season (June to September)
Best spots: Anse Chastanet, Lesleen M, Superman's Flight
Marine life: Saint Lucia boasts almost 1,000 marine fish species, 800 mollusk species, and
more than 120 coral species. You can bump into a variety of creatures, including humpback whales, eagle rays, jacks, barracudas, sea turtles, grunts, marbled electric rats, silver moonfish, cuttlefish, lobsters, honeycomb moray eels, needlefish, among many others.
Water temperatures: 26° C/80° F to 29° C/83° F.
Bali, Indonesia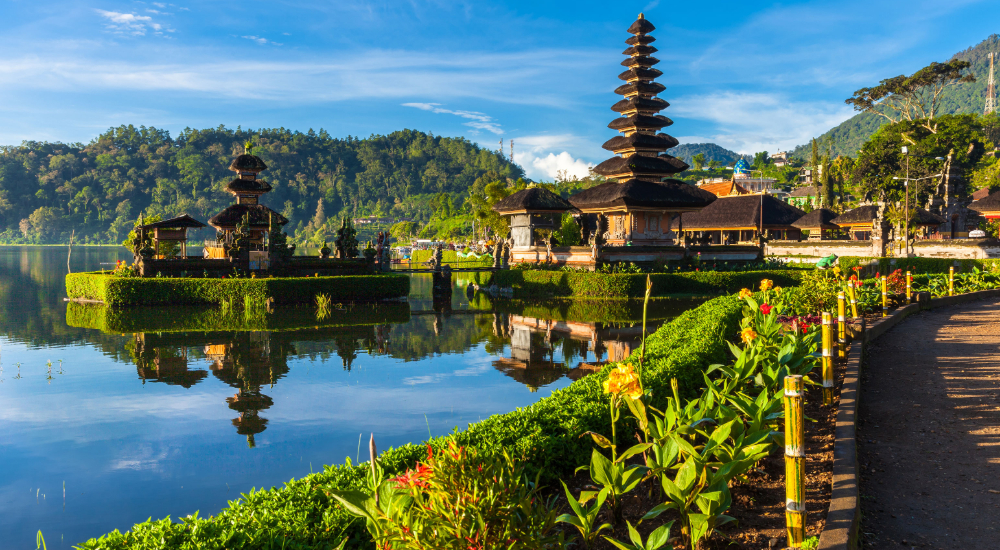 Indonesia is the largest country in Southeast Asia, composed of some 17,500 islands, of which more than 7,000 are uninhabited. What better place to spend your honeymoon than one of the most famous islands in the whole archipelago – Bali. Also referred to as The Island of Gods, Bali is a place where you'll find both luxurious beach resorts with exciting nightlife and amazing natural scenery dominated by looming volcanoes and lush terraced rice fields.
Bali is part of the Coral Triangle, a triangular area located in the equator, between the Pacific and Indian Oceans, that is recognized as the global center of marine biodiversity. From pristine reefs to black-sand muck dive sites, Bali has a little something for every type of diver. And if you or your loved one want to get close and personal with the big stuff, this is also where you have high chances of seeing the iconic manta rays.
Diving season: May to November
Best spots: USAT Liberty, Crystal Bay, Seraya Secrets
Marine life: With over 900 species of fish, more than 400 species of coral, and dozens of species of invertebrates and crustaceans, Bali offers plenty to see. Manta rays, whitetip reef sharks, Wobbegong sharks, Bumphead parrotfish, great barracudas, schooling jacks, tuna, Napoleon wrasses, and even the elusive Mola-molas can be seen around the island.
Water temperatures: 27° C /79° F to 29° C/84° F
Curaçao
The hidden gem of the ABC Islands, Curaçao is a Dutch Caribbean island known for pastel-colored colonial architecture and rich cultural background as well as its hilly terrain, limestone cliff formations, and sandy beaches tucked into spectacular bays. This small piece of Europe in the Caribbean is one of those honeymoon destinations for scuba divers where you can find plenty of things to do during surface time. The picture-perfect narrow streets are busy with shops and restaurants!
Underwater, Curaçao is a wonderland defined by its rich biodiversity, superb coral reefs, steep walls, shipwrecks, and overall warm waters throughout the year. It's also one of the best places for shore diving. There are over 80 dive sites to select from, and most resorts have gorgeous house reefs to explore.
Diving season: Year-round, but the best diving conditions can be found from September to December
Best spots: Mushroom Forest, Watamula, Tugboat
Marine life: Well-known for its colorful and diverse marine life, some of the creatures you may see in the waters of Curaçao include southern stingrays, eagle rays, green sea turtles, Hawksbill turtles, giant moray eels, barracudas, blue tangs, squirrelfish, damselfish, groupers, snappers, grunts, scorpionfish, and tarpons.
Water temperatures: 26° C/79° F to 29° C/84° F
Cancún, Mexico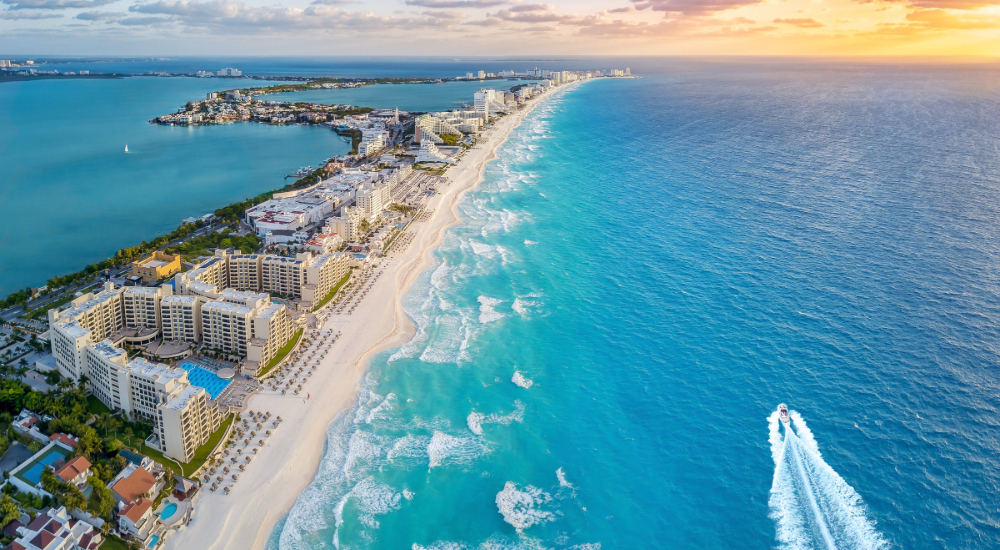 The Yucatán Peninsula is probably Mexico's most popular tourism getaway. It's home to some of the country's richest history and houses the most well-preserved Maya ruins, gorgeous Spanish colonial cities, biosphere reserves, and of course, internationally acclaimed dive sites. Cancún, on the northeast coast of the Yucatán Peninsula, is the perfect base from which you can explore the peninsula and the warm Caribbean Sea.
Cancún and the Riviera Maya offer some of the most exciting scuba diving sites. From the world-famous Museo Subaquàtico De Arte that houses over 500 permanent life-size sculptures, the ancient cenotes to the whale shark spots where you can get up-close to the biggest fish in the sea, you have some many options when it comes to the type of diving you're after. Plus, Cancún is one of those honeymoon destinations for scuba divers where you can do more than just relax and dive. The city is known for its outstanding nightlife!
Diving season: Year-round
Best spots: MUSA, Chitales, C-56 Wreck
Marine life: In the Cancun area live about 170 species of fish, 33 species of hard coral, 32 species of soft coral, and 16 species of marine mammals. Some of the aquatic animals you can see here include whale sharks, nurse sharks, manta rays, green turtles, hawksbill turtles, loggerhead turtles, barracudas, queen angelfish, trumpet fish, and yellow goatfish, among others.
Water temperatures: 25° C/ 78° F to 28° C/82° F
---
What would you choose for a romantic holiday? Leave us your recommendations for the best honeymoon destinations for scuba divers below.