Sculpture parks are opening the ocean up for a different kind of art lover: scuba divers. The trend of underwater museums has reached the shores of France, with plans to open not one but three aquatic museums this fall.
The first to open is a private museum owned by François Ollandini, former leader of tourism and transport in Corsica, writer, and art donor. Ollandini ordered nearly 30 underwater sculptures from contemporary sculptor Marc Petit.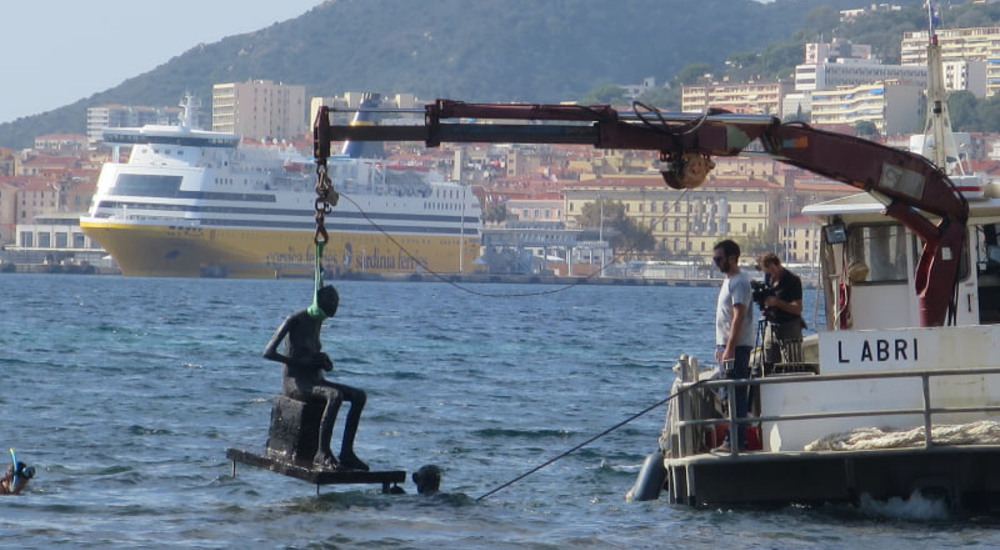 Some of the sculptures are already below the surface and ready to be explored. A sculpture of the goddess Gaia can be admired outside the art collector's house in Ajaccio, while other figures are located close to the Isolella Tower, also on the west coast of the island. Ollandini envisions a no-fishing and no-sailing area that will turn Ajaccio into a popular diving destination
Marseille's Musée Subaquatique is also expected to open in late September, with ten pieces by different artists displayed under the surface near Les Catalans beach. The Underwater Museum of Marseilles is founded by Antony Lacanaud, who took inspiration from Mexico's Museo Subacuático de Arte. The statues are made of pH-neutral marine concrete, free from harmful pollutants.
Alas, the third underwater sculpture park will open in early November to the south of the small island of Sainte Marguerite, in the Bay of Cannes. The project was commissioned by the local government and will contain the works of renowned British sculptor Jason deCaires Taylor.
Taylor is the creator of Molinere Underwater Sculpture Park, the world's first underwater sculpture park and museum. The artist is now preparing six sculptures for the Cannes underwater art park. The city authorities hope to use both attractions – in Marseilles and Cannes – to educate students on the importance of marine conservation.
Image credits: Marc Petit/Facebook