For those living in the Northern Hemisphere, winter is settling in with its cold temperatures and windy, snowy days. While some would be contempt with spending their free time all wrapped up in a blanket next to a cup of tea, we know there are still plenty of adventure-seekers out there. If you're looking for a sunny break or just a place where you can still find good diving conditions, check out the best winter scuba diving destinations for the holidays or the beginning of a new exciting year.
Dear Southern Hemisphere scuba divers, don't you worry. We will also be covering the ideal destinations where you can go diving during your winter months.
1. Palau, Micronesia
Diving in Palau is described by many as diving in paradise. The dives here are unique and thrilling. Imagine being able to enjoy pristine reefs, incredible drop-offs, abundant marine life, historical shipwrecks, mysterious caverns, and thrilling drift dives all in one place. Palau is all about diversity. Most of the dive sites are located around the Rock Islands and Peleliu Island, and the wide range of sites suit different experience levels, so everyone can enjoy their time here.
Diving conditions: Visiting Palau between December and March means you'll be visiting during the best season for scuba diving. During these months, the sea is calm, the waters are warm, and the chances of rain are rather scarce. It is also when the number of pelagic species tends to increase, so you'd also be enjoying the bigger animals of the oceans. And for such a nutrient-rich water, visibility is unusually outstanding, often exceeding 40 meters (130 feet).
2. Raja Ampat, Indonesia
Raja Ampat is a remote winter scuba diving destination that requires more planning than other trips, but it is well worth it. The archipelago is part of the Coral Triangle, a global center of marine biodiversity that has about 76% of the known species of coral in the world. Diving in Raja Ampat is incredibly rewarding, with its pristine waters and diversity of marine life that includes everything from the smallest of critters to big stuff like whales (about 30 different species), manta rays, and reef sharks.
Diving conditions: The best season for diving in Raja Ampat runs from October to April, so coming here during the winter months will allow you to make the most of the experience. This is when you'll find the best visibility and the chances of rain are fewer than usual. Visibility ranges from 10 to over 30 meters (33-100+ feet) and the currents vary from none to very strong depending on the dive site.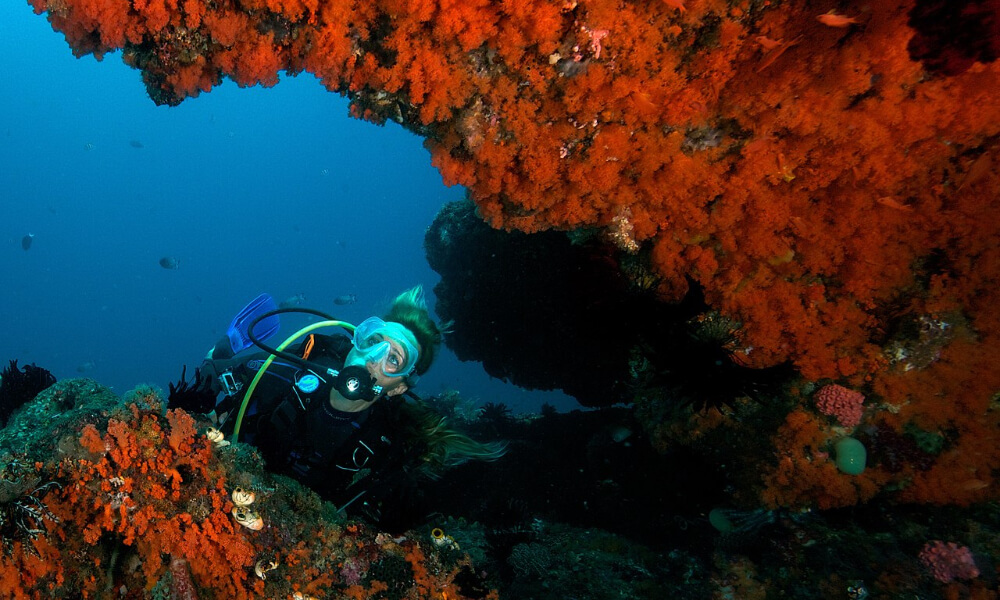 3. Socorro Island, Mexico
The most famous of the four Revillagigedo Islands, Socorro is a haven for advanced divers who flock here in large numbers for the chance to dive with the numerous pelagic species that patrol the region. Schooling hammerheads, Galapagos sharks, tiger sharks, silky sharks, giant manta rays, and friendly dolphins are just a few of the highlights of Socorro Island. With a bit of luck, you may even spot a whale shark. Furthermore, the island is one of the few places in the world where one can swim with humpback whales.
Diving conditions: Socorro Island is a remote destination reachable by liveaboard only. Trips are available during the diving season which runs from November to May due to the weather conditions. From November through early January, the water temperatures range from 23 to 26° C (73-79° F) but drop to 21-23° C (70-73° F) from late January to early April. The underwater visibility is typically very good, averaging 30 meters (100 feet).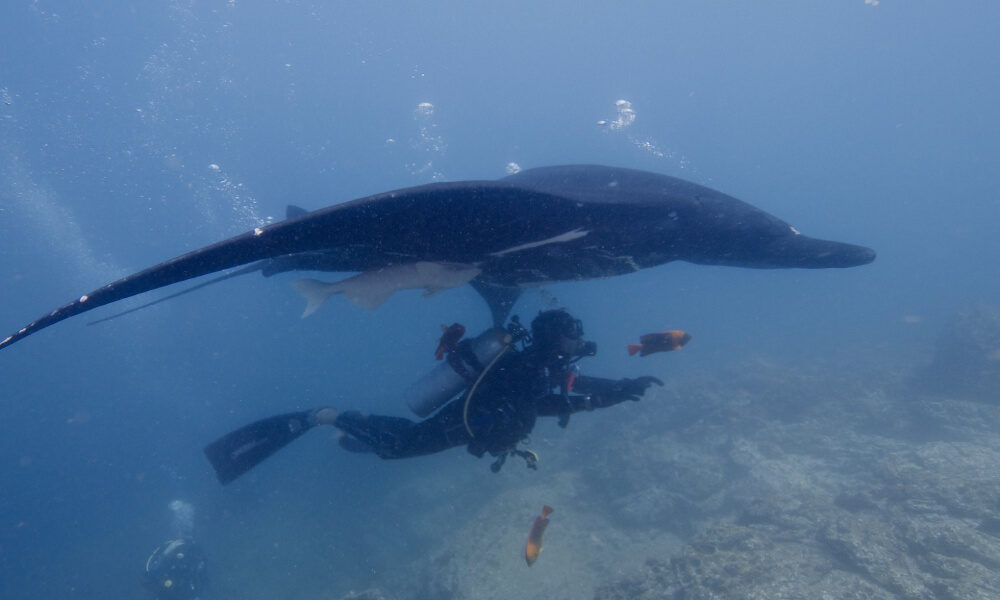 4. Chuuk Lagoon, Federated States of Micronesia
Chuuk Lagoon is the ultimate wreck diving destination. Due to its location, Truk (as it was formerly known as) used to be a Japanese naval base during WWII. On February 17, 1944, the Operation Hailstone attack by the United States lead to the sinking of 270 aircraft, 32 merchant ships, 13 warships, and 2 submarine tenders. Decades later, the wrecks still rest on the sandy bottom of the Chuuk Lagoon with much of their structure still intact. More than 50 of these historical wrecks are open to scuba divers today. Whitetip sharks, blacktip sharks, and grey reef sharks patrol these waters, so it is likely to encounter them whilst exploring the wrecks. The wrecks themselves are now home to a plethora of marine life of all shapes and sizes.
Diving conditions: The peak season for diving at Chuuk Lagoon is between December and April which is also the dry season. During these months, you get the best visibility (25 meters/80 feet or more) and a pleasant water temperature of 27-30° C/81-86° F. The perfect diving conditions one can enjoy during this period make Chuuk Lagoon one of the best winter scuba diving destinations for wreck divers.
5. Cayman Islands
Cayman Islands is one of the most popular scuba diving destinations in the world and a favorite among those looking to escape the cold and warm up under the Caribbean sun. Considered the birthplace of wall diving, it offers dramatic drop-offs and swim-throughs. But there are also plenty of shallow reefs and fascinating wrecks for divers of all experience levels to enjoy. Cayman Islands are also famous for their stingray encounters, but with some 500 species of marine animals – including Caribbean reef sharks and Hawksbill turtles, there's so much more to see underwater.
Diving conditions: Diving in the Cayman Islands is good all year, but the summer months are known to bring more rain and autumn is the hurricane season. Consequently, for calmer seas and better conditions, winter is an ideal time to visit the region. The water temperature remains a balmy 26-28 °C (78-82 °F) year-round and the visibility is usually outstanding.
6. Jardines de la Reina, Cuba
Jardines de la Reina is an archipelago comprised of over 200 small islands and the most extensive protected area in the Caribbean. The region is completely closed off, with no permanent population and no commercial fishing allowed. Jardines de la Reina are now one of the few places on the diving map where one can see undamaged reefs full of life and just a few other divers in sight. The main attractions here are without a doubt the many different species of sharks. Caribbean reef sharks and silky sharks are a guarantee, but other species such as lemon, nurse, blacktip, hammerhead, and whale sharks make an appearance during certain times of the year.
Diving conditions: Jardines de la Reina is a year-round diving destination that boasts underwater visibility of about 40 meters (130 feet) throughout the year. November to April is the dry season, which is also considered the best time for scuba diving. With water temperatures around 25° C/77° F and calm seas, it's one of the best winter scuba diving destinations.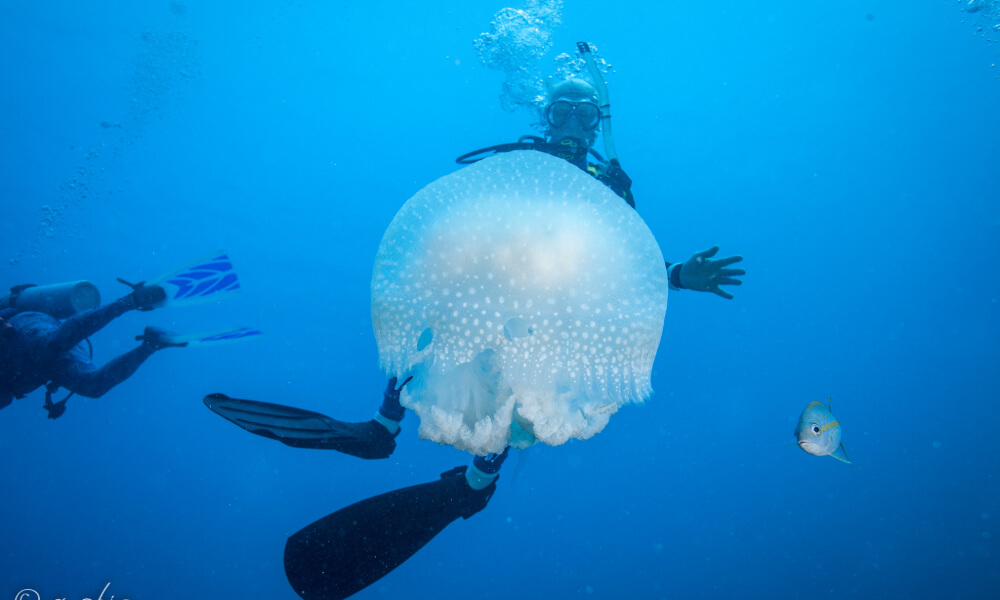 7. Galapagos Islands, Ecuador
Galapagos needs no introduction. This remote once-in-a-lifetime destination is on many divers' bucket list. Having been completely cut off from the rest of the world for so long, the Galapagos Islands are home to spectacular endemic wildlife such as the marine iguana. What's more, scientists from the Charles Darwin Research Station and the National Geographic Society found that islands of Darwin and Wolf are home to the world's largest-known shark biomass. Large schools of hammerhead sharks, whale sharks, silky sharks, Galapagos sharks, giant manta rays, spotted eagle rays, and schooling barracudas are the norm here.
Diving conditions: The warm and rainy season in Galapagos runs from December to March, with water temperatures often reaching 23° C/73° F and calm ocean conditions. This period also coincides with the manta season and it is also when the schools of hammerhead sharks tend to get larger. If you don't mind the brief afternoon rain showers, then definitely add the Galapagos Islands to your list of winter scuba diving destinations.
8. Eastern Atolls of The Maldives
The Maldives is a renowned beach destination made up of 26 natural coral atolls. The water surrounding the idyllic stretches of land offers excellent reefs and a plethora of marine life. It's the abundance of sea creatures that sets it apart from many other popular diving destinations. Defined by the currents that dominate the area, the Maldives are frequented by diving highlights such as manta rays, eagle rays, and the mighty whale sharks that come to feed on the plankton.
Diving conditions: From December to March, the currents flow through the atolls of the Maldives from east to west, creating amazing visibility of up to 30 meters (100 feet) on the eastern side. Since the current is usually strongest during these months, many species of sharks gather on the entrances of the eastern channels. The manta rays can be found on the western side where they indulge in the delicious plankton that flows out to the open sea.
9. Anilao, The Philippines
Here's something for you muck divers out there. The diving that takes place off Anilao is dominated by its rewarding muck dives, rare critters, and spectacular blackwater dives. This is a paradise for macro photographers and nudibranch lovers. The reefs of Anilao are healthy and the reef fish and critters are plentiful at every dive site. Larger marine life can also be found here, including schools of jacks, barracudas, bluefin trevallies, and even reef sharks on the deeper dive sites with strong currents.
Diving conditions: The main diving season in Anilao is October through May, with November, April, and May being the most crowded months. Coming here in December, January, and February means you can avoid the crowds while still enjoy great diving conditions. The water temperature is about 25° C/77° F and visibility is typically 15 meters (50 feet).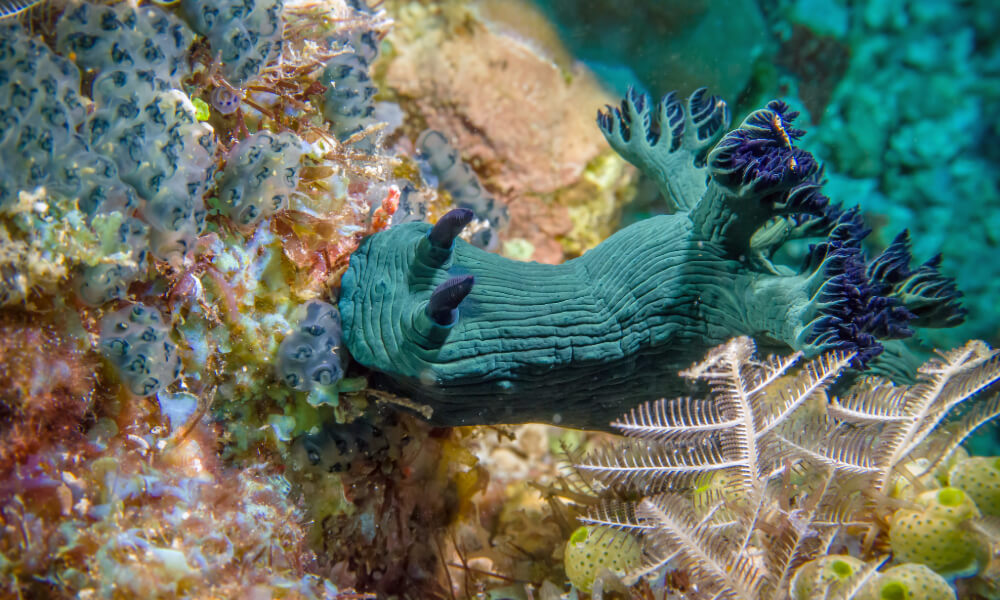 10. Silfra, Iceland
For those based in Europe, Silfra is one of the best options for a true winter dive. The fissure is fed by groundwater originating from Langjökull, Iceland's second-largest glacier. The water is filtered through porous underground lava before it reaches the spring, so it is therefore extremely pure by the time it reaches Silfra. Divers shouldn't get their hopes up when it comes to marine life. Most of it is either plant life or invertebrates so tiny they are not visible to the human eye. The only resident fish here are the Arctic chars, but they live in the darker recesses, so they are often not spotted by scuba divers. Silfra is all about the unique opportunity of diving between two continental plates in crystal-clear water.
Diving conditions: There isn't a best time to dive Silfra, as this is a year-round scuba diving destination where the underwater conditions remain rather constant throughout the seasons. The water temperature remains between 2 and 4 °C (36-39 °F) year-round and visibility is a standard 100+ meters (330+ feet). Note that all divers must be Dry Suit certified to dive at Silfra.
Have we missed any of your favorite winter scuba diving destinations? We'd love to know where you venture off to when you feel like hitting the road.