People have long been fascinated with shipwrecks and the treasures they may hold. These windows to the past connect us to our cultural heritage and teach us lessons about the impact of the environment, human error, or war upon human life. These wrecks can ultimately help the environment as over time, they can become a habitat for many marine plants and animals.
Due to their size or history, some shipwrecks have become more popular than others. Let's look at the most famous shipwrecks that you can get up close to.
U.S.A.T. Liberty, Indonesia
Depth

5 – 30m/16 – 100ft

Ship Type
Freighter
Visibility

10 – 35m/32 – 115ft

Diving Period
All year round
Current
None
Experience
All levels
Water Temperature

23 – 30° C/73 – 86° F

Access
Shore
Marine Life

Ghost pipefish, nudibranchs, garden eels, batfish, anglerfish, sweetlips, yellow mask surgeons, butterfly fish, fusiliers, white-tip sharks, barracudas, Napoleon wrasse, trevallies, pygmy seahorses, parrotfish, lizardfish, jacks, gobies.
The U.S.A.T. Liberty was a cargo ship that sank off Bali's northeast coast in 1942, after being torpedoed by a Japanese submarine. Today, the ship is regarded as one of the best wreck dive sites in the world, teeming with marine life – from colorful reef fish to sea turtles.
The ship was taken over by a variety of species of soft and hard corals, gorgonians, sea fans, and other underwater flora. And while the 120-meter-long structure is disintegrating, it is still possible to swim into some of the large cargo holds. Divers can still observe the bow, guns, and anchor chain of the wreck.
S.S. Yongala, Australia
Depth

15 – 33m/50 – 108ft

Ship Type
Steel passenger and freight steamer
Visibility

15 – 25m/50 – 82ft

Diving Period
All year round
Current
Often strong
Experience
Advanced
Water Temperature

21 – 25° C/70 – 77° F

Access
Boat
Marine Life

Manta rays, eagle rays, giant groupers, giant trevallies, barracudas, sea turtles, sea snakes, various species of sharks such as bull sharks and tiger sharks, hard and soft corals.
Yongala was a luxury passenger ship built in 1903 and named after a local Aboriginal Ngadjuri word for "good water." The ship sank during a cyclone in March 1911, but it wasn't until 1958 that it was first dived. It is situated off the coast of Townsville, in the central section of the Great Barrier Reef Marine Park.
The wreck is in very good condition. This may also be due to the fact that divers are prevented from swimming inside the ship. But rest assured, there is plenty to see outside the S.S. Yongala. The ship is huge and is inhabited by a seemingly endless range of marine life. You are also likely to see large stuff such as bull sharks and giant groupers.
S.S. Thistlegorm, Egypt
Depth

16 – 33m/52 – 108ft

Ship Type
Armed Merchant Navy ship
Visibility

15 – 25m/49 – 82ft

Diving Period
All year round
Current
Strong
Experience
Intermediate to Advanced
Water Temperature

22 – 28° C/71 – 82° F

Access
Boat, Liveaboard
Marine Life

Groupers, angelfish, barracudas, lionfish, sweepers, stonefish, scorpionfish, Mediterranean moray eel, tuna, snappers, turtles.
Found off the west coast of the Sinai Peninsula, the S.S. Thistlegorm is one of the best-preserved wrecks in the world. Now measuring 150 meters in length, the ship lies upright on the sandy seabed where divers can expect to see much of the cargo, motorcycles, cars, locomotives, anti-aircraft guns, and other remains from its past.
Due to its long time underwater, the upper deck is now encrusted with beautiful coral formations. The hull is where lionfish and schools of sweetlips take shelter from the current, and as one makes their way up across the top of the S.S. Thistlegorm, the waters become abundant in different species of fish that roam the area unperturbed by the familiar divers.
San Francisco Maru, Micronesia
Depth

60m/196ft

Ship Type
Freighter
Visibility

30m/100ft

Diving Period
All year round
Current
Mild to strong
Experience
Technical
Water Temperature
27 – 30° C/81 – 86° F
Access
Liveaboard
Marine Life
Glassfish, silvery jacks, longnose hawkfish, corals, sponges.
Located in what is believed to be the ultimate wreck diving destination – Truk Lagoon – the San Francisco Maru is one of the most famous shipwrecks in the world. It was built in 1919 and commissioned into the Japanese Imperial Navy during WWII. In 1944, the ship received the impact of six bombs that were dropped by plane during Operation Hailstone. The San Francisco Maru caught fire and later sank.
The 117-meter-long ship is known as the "million-dollar wreck," as it holds hundreds of mines, bombs, ammunition, torpedoes, trucks, and tanks. She rests at 60 meters with its shallowest parts at about 48 meters. Despite its depth, the San Francisco Maru remains one of the most popular dives of Truk Lagoon. It is a real playground for wreck-lovers, who can find all sorts of things still on it – from weaponry to other artifacts such as cooking utensils and medicine bottles.
Gribshunden, Sweden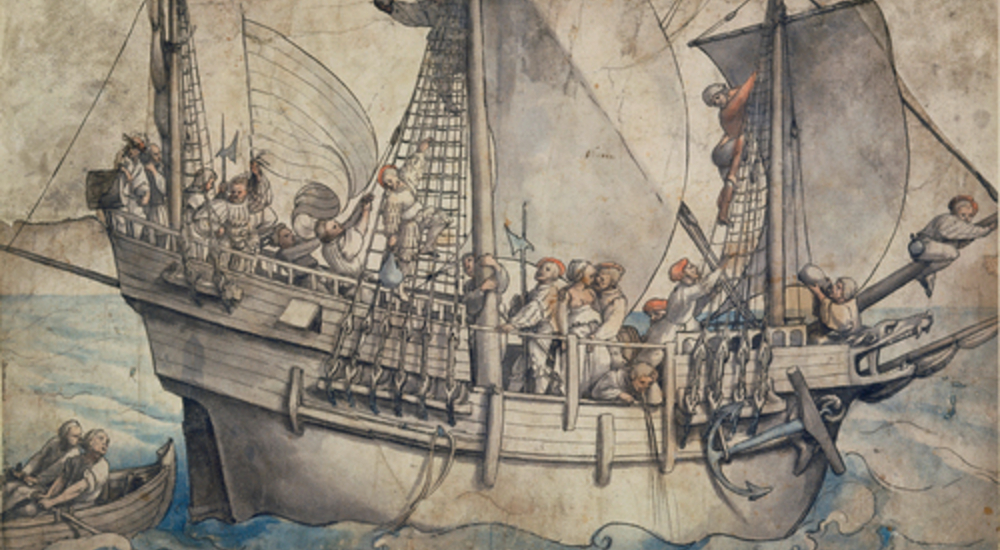 | | | | |
| --- | --- | --- | --- |
| Depth | 10m/33ft | Ship Type | Medieval warship |
| Visibility | 6 – 15m/20 – 50ft | Diving Period | All year round |
| Current | N/A | Experience | All levels |
| Water Temperature | 15 – 20° C/60 – 68° F | Access | Boat |
The world's best-preserved late medieval ship, Gribshunden belonged to King John of Denmark. The first known mention of the ship is in a letter that dates May 1486. It is believed that Gribshunden went under sometime in 1495 after catching fire while on its way to Kalmar, Sweden. The ship laid forgotten until the '70s when a group of recreational scuba divers found the wreck north of Stora Ekön Island.
Archaeological investigations begun no sooner than 2001 and it was only in 2013 that archaeologists identified the ship as Gribshunden. Despite being located in just 10 meters of water, Gribshunden appears to be available only to underwater archeologists. If you are part of the scientific community, it may be worth contacting the local authorities to inquire about the possibility of diving this ancient and fascinating wreck.
S.S. Baron Gautsch, Croatia
Depth

28 – 40m/92 – 130ft

Ship Type
Passenger ship
Visibility

5 – 10m/16 – 32ft

Diving Period
May to September
Current
Mild
Experience
Advanced
Water Temperature

18 – 25° C/65 – 77° F

Access
Boat
Marine Life
Tuna, cod, scorpionfish, lobsters, octopuses, large conger eels.
Another European treasure, the S.S. Baron Gautsch was a famous Austro-Hungarian steamship built in 1908. In 1914, the 85-meter-long ship was on its voyage from Kotor to Trieste when it sank after running into a minefield near Rovinj. The mines were laid by the Austro-Hungarian Navy to defend the port of Pula.
A national cultural heritage site, the wreck is under the protection of Croatia's Ministry of Culture and diving is possible with the dive centers that have been granted permission to conduct dives on the ship. Deemed the most beautiful wreck in the Adriatic, Baron Gautsch is in very good condition and has attracted plenty of marine life over the years.
Cristobal Colon, Bermuda
Depth

18m/60ft

Ship Type

Dredging ship

Visibility

25m/80ft

Diving Period
November – May
Current
Mild
Experience
All levels
Water Temperature

18 – 25° C/65 – 77° F

Access
Boat
Marine Life
Soft and hard corals, sea turtles, snappers, wrasses, barracudas, chromis
Built in Italy in 1923 under the name Giuseppe Garibaldi, Cristobal Colon was the largest ship of her time, measuring about 152 meters in length and weighing 10,000 tons. She served the Spanish Navy but on October 25, 1936, the ship ran aground at North Rock but managed to stay afloat. During the Second World War, she was used for target practice by the US Navy fighter pilots and finally went under.
Today, Cristobal Colon is the biggest wreck in Bermuda. Like most other wrecks here, it lies in relatively shallow water which allows for great bottom times. There's plenty of marine life to see here, from the hard and soft corals adorning her metal structure to the barracudas, snappers, wrasses, and other interesting creatures.
U.S.S. Kittiwake, Cayman Islands
Depth

20m/65ft

Ship Type
Submarine rescue vessel
Visibility

30m/100ft

Diving Period
November – May
Current
Mild
Experience
All levels
Water Temperature

~27° C – 80° F year-round

Access
Boat
Marine Life
Caribbean reef sharks, eagle rays, stingrays, sea turtles, moray eels, groupers, blue-striped grunts, barracudas, Bermuda chubs, tarpons.
One of the most famous shipwrecks in all the Caribbean, the U.S.S. Kittiwake was a United States Navy Chanticleer-class submarine rescue vessel. During its 49 years of service, it sailed waters across the Earth. It accompanied submarines during sea trials and would also act as a running target or recover practice torpedoes and mines. The ship was decommissioned in 1994.
In 2004, the United States Maritime Administration (MARAD) invited both U.S. and International applicants to apply for the donation of a ship for the purpose of creating an artificial reef. The Cayman Islands was the lucky winner and the U.S.S. Kittiwake was finally sunk off Seven Mile Beach in January 2011. Sitting in shallow water, it allows plenty of bottom time. Penetration is possible, but there's lots to see outside the ship too.
---
What famous shipwrecks have you explored on your dives?