In 2018, a typhoon destroyed nearly 80% of the corals in Hoi Ha Wan bay off Hong Kong's Sai Kung peninsula. The strongest-known storm the city has ever experienced left behind broken coral skeletons and few surviving species. It will most likely take decades for the corals to regrow to their former state, but efforts are made to help them become self-sustaining.
Architects from Hong Kong University's Robotic Fabrication Lab and marine scientists from the Swire Institute of Marine Science (SWIMS) of the Faculty of Science at Hong Kong University are now using 3D-printed clay hexagons to create artificial reefs following the devastating natural disaster. This is reportedly the first use of clay in 3D printing as well as the first use of terracotta in creating artificial reefs.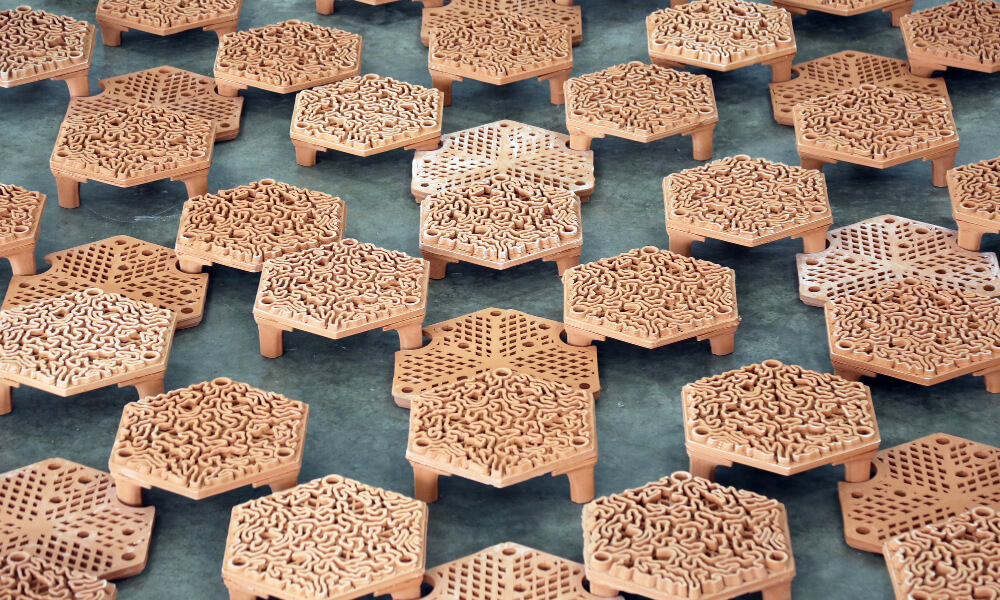 Researchers chose clay because it is an environmentally friendly material that does not change underwater conditions. Terracotta is also similar to the calcium carbonate found in real coral reefs. Prior to this, artificial reefs have been made of materials such as concrete or metal, which can pollute the water. These special tiles were 3D-printed using reef-safe terracotta and fired at 1,125 degrees Celsius. They measure 65 cm (13.7 in) in diameter and weigh around 20 kg (44 lbs).
The design of the tiles was inspired by patterns typical to corals and contain ridges and indentations that mimic the environments where coral reefs occur naturally. The perforations don't allow sediment to deposit on the surface the tiles, to prevent them from suffocating the corals, and the pockets are big enough to allow corals to grow both horizontally and vertically.
Scientists placed a number of 128 clay tiles on the seabed at Coral Beach, Moon Island, and in a bay near the WWF Marine Life Centre, covering an area of about 40 square meters (431 square feet). They seeded the tiles with combinations of three dominant local genuses of coral that coexist in Hong Kong's coral communities: Acropora, Platygyra, and Pavona. Other coral species are expected to join naturally.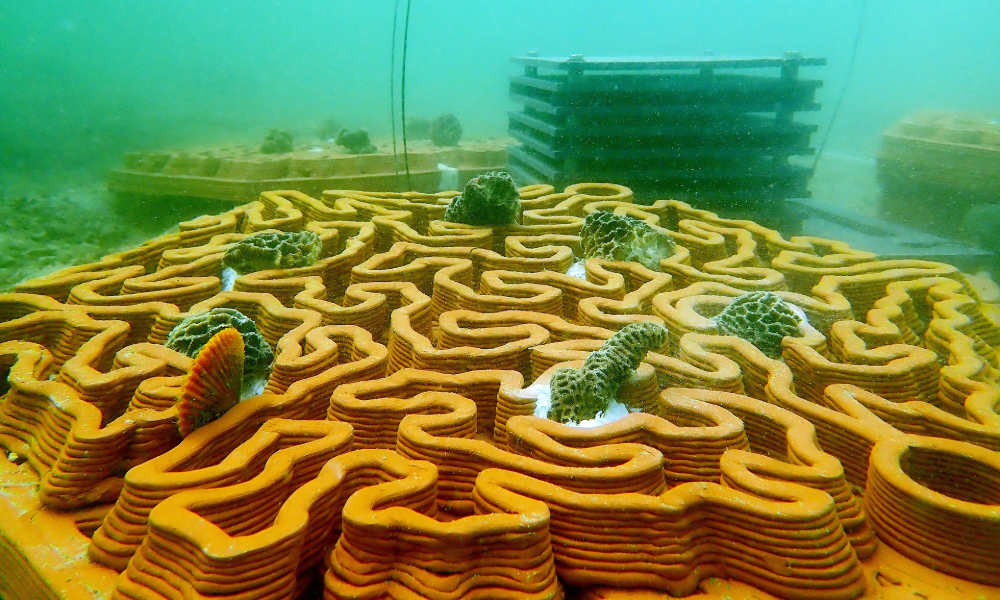 ---
The team will continue to monitor coral regrowth in the next years and plan to expand their collaboration to new designs. They hope this new method for creating artificial reefs will help worldwide communities in their efforts to save degraded coral reef systems.
Image credits: University of Hong Kong