It's been less than a year since we announced the opening of the world's deepest pool in Mszczonó, Poland, and the title has already been claimed by something even more spectacular – the Deep Dive Dubai.
Located in Nad Al Sheba, United Arab Emirates, the new pool is set to open to the public in late July 2021. Pictures and videos of the new massive pool have already gone viral online. Will Smith took to Instagram to share his experience at Deep Dive Dubai. The actor was one of the first people to try the deepest pool on Earth, and it's safe to say he was pretty impressed by the new construction.
View this post on Instagram
Deep Dive Dubai has already been verified by the Guinness World Records as the world's deepest swimming pool for diving. The pool has a depth of over 60 meters, or 196 feet, and holds 14 million liters, or 3.7 million gallons, of water. The water is maintained at a balmy temperature of 30 degrees Celsius, or 86 degrees Fahrenheit.
Poland's DeepSpot, the previous record-holder, is about 45 meters, or 148 feet, deep and can hold 8 million liters, or 2.1 million gallons, of water.
Diving at Deep Dive Dubai also offers a more wholesome experience. The pool is constructed as a sunken city featuring an apartment, garage, library, and game arcade with a foosball table and pool table, and much more. More than 50 cameras have been placed to ensure the safety of the divers.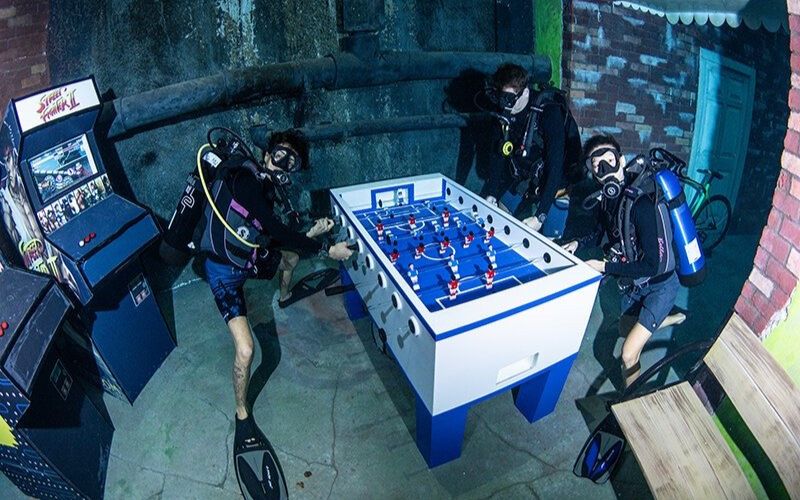 Housed inside a huge oyster-shaped structure, the pool is accessible to all divers, from newbies to technical scuba divers, as well as freedivers. Because of the vastness of the pool, it takes several dives to explore everything that this underwater city has to offer. Diving courses are also available, with levels from beginners to professionals. Anyone aged 10 and above can take a plunge in the deep pool of Dubai.
Deep Dive Dubai also has an advanced hyperbaric chamber – with a capacity of 12 people – that can be used in case of an emergency. Not only this, but the diving complex also doubles as an underwater film studio with its own media editing room. A restaurant equipped with large windows and TV screens allows non-divers and friends to watch what's happening inside the pool.