A warship believed to have sunk approximately 250 years ago was recently discovered off the town of Foça in the İzmir province of Turkey. The wreck was added to the "Turkish Shipwreck Inventory Project: Blue Heritage (TUBEP)" study carried out by the Dokuz Eylul University (DEU) Institute of Marine Sciences and Technology with the support of the Presidency of Strategy and Budget.
The wreck was found at a depth of about 55 meters and was reached using sonar technology and a remote-controlled underwater robot. It is 25 meters long and 7 meters wide, and its remains are scattered over an area of 250 square meters.
The ship's origin and purpose remain unknown, but researchers believe that it may have sunk following a conflict in the area between the Ottoman Empire and Italy. The Ottoman–Venetian wars started in 1396 and lasted until 1718. Another theory is that the vessel may have been a pirate ship, given that it's quite uncommon to find a warship outside of a war zone.
About 20 iron and bronze cannons, as well as many cannonballs and pieces of sailing equipment, were found on it. Wood parts and Italian and Ottoman kitchenware were also discovered on the sea bottom. Some plates, jugs, and pipes were removed and brought to the Bodrum Underwater Archeology Museum.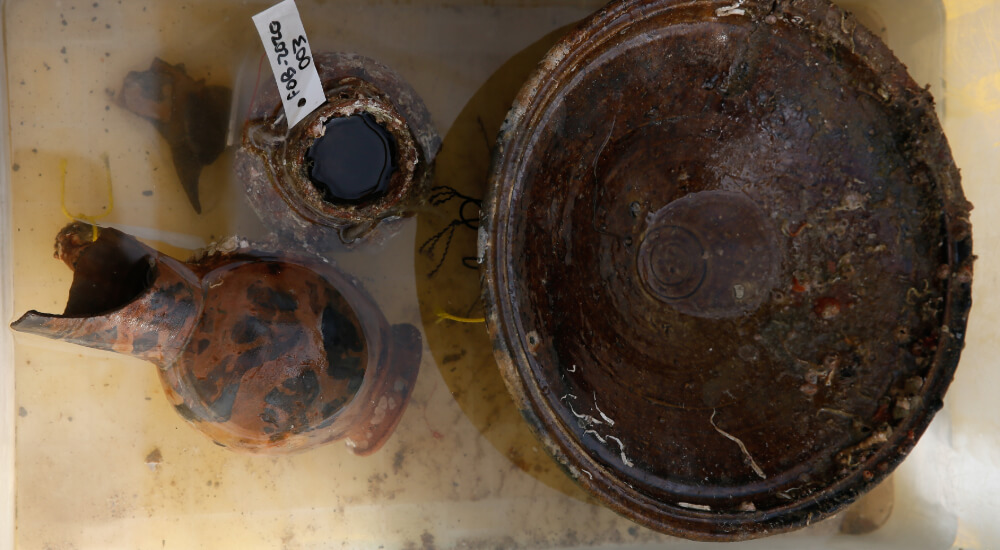 The underwater excavations in Izmir started 15 years ago. So far, five wrecked warships were found in the region. Foça used to be an important naval base during the Ottoman era, which lasted from the 14th to the early 20th century. Researchers hope that the vessel will provide further insight into the history of the area.
Associate professor Harun Özdaş at the Institute of Marine Sciences and Technology at DEU believes that Turkey is "the capital of the world's underwater cultural heritage." Some of the relics found overtime on the seabed off the coast of modern-day Turkey can be traced back to the Bronze Age.
Image source: sanalbasin.com