More than 76 years ago, a U.S. Navy destroyer was sunk while attempting to protect an American landing force in the Philippines from multiple Japanese warships during the Battle of Leyte Gulf. The vessel remained undisturbed on the seabed in the Pacific Ocean since 1944 and has only recently been mapped and filmed.
The Fletcher-class destroyer was first discovered in 2019, but its identity remained unconfirmed. Now, thanks to imagery from the undersea technology company Caladan Oceanic, researchers could identify the ship by its hull number, 557. The number was clearly visible on both sides of its bow and corresponded to a warship that was lost at the Battle off Samar.
The ship, named USS Johnston, lies at a depth of 6,500 meters (21,180 feet) in the Philippine Sea. It is about 60 percent deeper in water than the famous RMS Titanic. The lack of oxygen at such great depths helped keep the ship in nearly perfect condition.
Victor Vescovo, owner of Caladan Oceanic and undersea explorer, said: "The wreck is so deep so there's very little oxygen down there, and while there is a little bit of contamination from marine life, it's remarkably well intact except for the damage it took from the furious fight."
What is known is that the USS Johnston was heavily outnumbered by the Japanese fleet. Despite this, the ship showed remarkable courage under such heavy fire. According to the expedition team, the position of the gun turrets seems to point to the fact that they were continuing to fire as the ship went down. Of the crew of 327, only 141 survived. The team laid wreaths before and after the exploratory dives.
The Johnston was captained by Commander Ernest Edwin Evans, of Native American ancestry. Despite having been seriously wounded in the battle, Evans fought bravely until the very end. He was posthumously awarded the Medal of Honor, the first Native American in the U.S. Navy to be awarded this military honor, according to the Naval History and Heritage Command. He was one of only two destroyer captains in WWII to receive the award.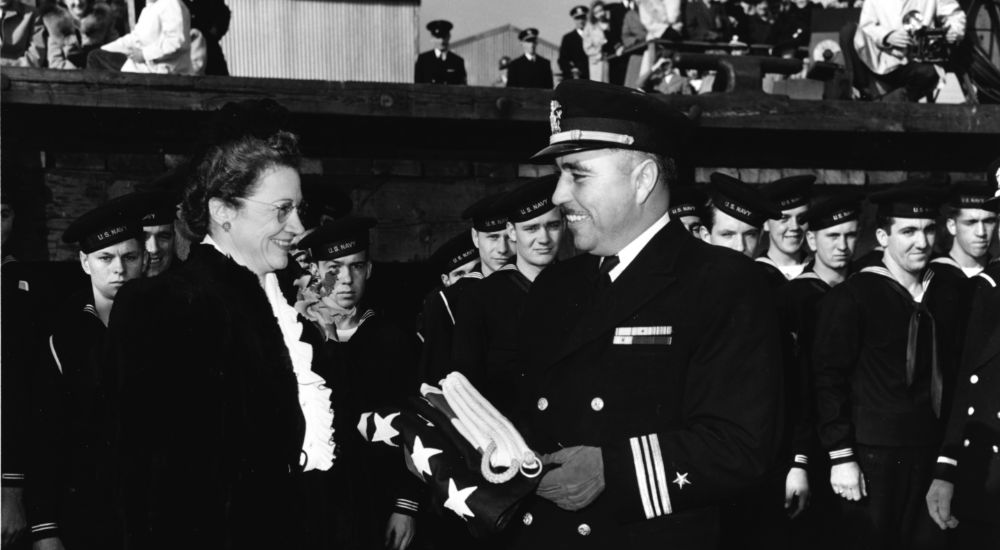 The expedition to the USS Johnston's wreck site was conducted via Limiting Factor, Vescovo's manned deep submersible, which has previously been to the deepest point in all five oceans. The sonar data, imagery, and notes taken during the dives have been turned over to the U.S. Navy for further research. The team of undersea explorers is now working with naval historians to shed more light on the WWII battle.