A team of Australian scientists recently discovered the widest coral in the Great Barrier Reef. The specimen, which belongs to the genus Porites, is also one of the largest and oldest coral in the reef system, measuring 34 feet (10.4 meters) in width and 17.4 feet (5.3 m) in height and thought to be between 421 and 438 years old.
It is believed that the coral went unnoticed for so long because it is located in a relatively remote and highly protected Marine National Park zone. The giant coral is located within a reef slope, bottoming at a depth of 24.2 feet (7.4 meters) and the top of the bommie is found at just 6.8 feet (2.1 meters) below the surface of the water.
Recognizing the importance of indigenous languages, the team consulted Manbarra Traditional Owners, the traditional custodians of the area, about an appropriate name for the rare coral. The Manbarra people have named the coral Muga dhambi, meaning big coral.
While the coral doesn't break any groundbreaking records, marine scientist Adam Smith of James Cook University and leader of the research team, considers the specimen of significant importance to the local ecosystem. The coral is home to other corals and various fish species that use it for shelter or feeding. Massive Porites such as this one are scarce on the Great Barrier Reef and limited to specific zones of the reef.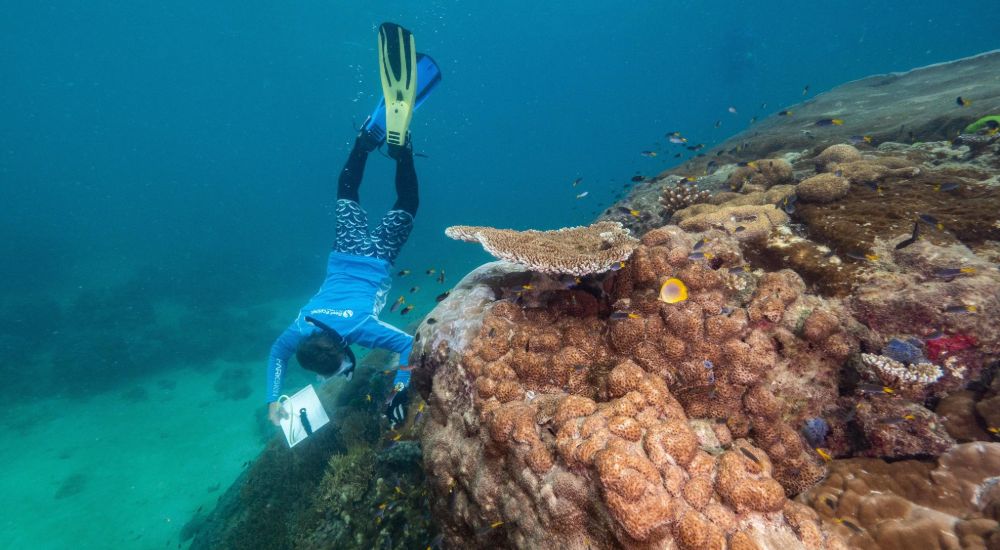 Muga dhambi is a healthy coral, covered with over 70 percent live coral, followed by sponges, live coral rock, and macroalgae. The researchers found no evidence of recent dead coral, coral rubble or sand, and hope to see Muga dhambi flourishing for years to come. However, corals like this are becoming rare as they are affected by climate change, ocean acidification, and various human activities such as overfishing.
---
More information on the giant coral living in the in Great Barrier Reef can be found in the journal Nature.
Image credit: Richard Woodgett