Many scuba divers are now familiar with liveaboard diving. But if you're a new diver or one that is used to diving rather close to the mainland, you probably never considered booking your place on a "floating hotel". However, liveaboards can provide you with the ultimate scuba diving experience, as you'll be able to reach remote locations on the globe which you otherwise couldn't set your fin in. Here's what you need to know about liveaboards and their advantages over regular dive boats.
When Is Liveaboard Diving a Good Idea?
Does the thought of being able to reach far-away destinations or go island-hopping in a remote archipelago sound appealing? A liveaboard may be your only option, anyway. Do you want to avoid stressing over booking different hotels and looking for decent places to eat? A liveaboard diving holiday includes accommodation, food, and drinks, so it is something you may want to look into. These boats have been designed for people to live aboard them for extended periods of time, with an average duration of about seven nights, although shorter or longer expeditions are possible.
Who Can Book a Liveaboard?
Many liveaboards are joined by divers of all levels of experience and diving backgrounds. While all divers are required to be certified, the basic Open Water (or equivalent) certification is the minimum requirement for most boats. However, some liveaboards serving destinations with more difficult dive conditions may require an Advanced Open Water (or equivalent) certification as a minimum level of experience. A number of liveaboards do not accept beginners and some require proof of 20-30 logged dives as a way to prove your knowledge.
Although most liveaboards cater to the needs of all level divers, with only your Open Water certification under your belt, you'll be holding yourself back from the good stuff found at greater depths. Getting your Advanced Open Water certification is something you should consider, as it will allow you to make the most of the destinations you are visiting. And since you will be making multiple dives a day, diving on Nitrox is also a good idea because it allows you to extend your bottom time on a repetitive dive. You can get your Nitrox Diver certification from any of the major scuba certification agencies. Some liveaboards offer the option to further your training on board, but you will need to look into this before booking your place on the boat.
What's Included?
It all depends on the boat, but you won't typically have to worry about your meals, non-alcoholic beverages, towels, toiletries, and land excursions (if any), and some may also offer Nitrox free of charge. Some of the more luxurious options also include a jacuzzi/hot tub and camera stations.
However, if you don't own your own scuba diving equipment, you will need to rent your gear as you normally would. 
How Does a Typical Day on a Liveaboard Look Like?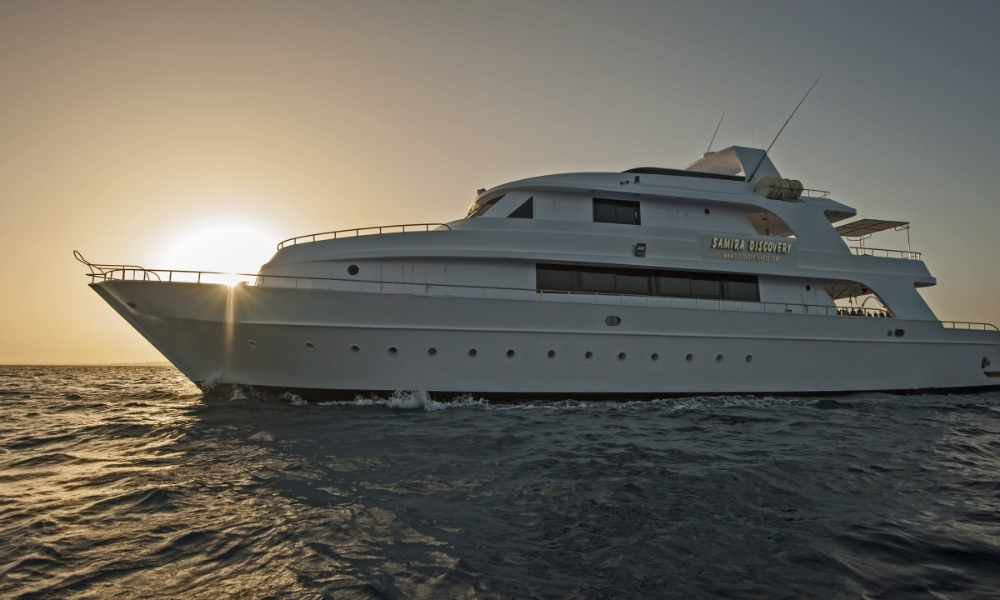 Life on a liveaboard can be summed up by "sleep, eat, dive, repeat". A diver's day usually starts early in the morning, around 6 or 7 AM, when it's time to prepare for the first dive of the day. The dives typically take place before each of the three main meals of the day. Surface time usually means chilling on the deck with your dive buddies or visiting the local towns or islands, if land excursions are possible.
Advantages of a Liveaboard Holiday
Unique experiences. Since most liveaboards travel to remote destinations, you will get to see many places still untouched by humans and reefs in pristine condition. Dive sites in off-the-grid locations are often better than those close to the continental shores, and you should also expect fewer (or none at all) crowds.
Gaining diving knowledge. With most liveaboards offering 7-day trips and two to four dives per day, it's safe to say you'll become a better and more confident diver after adding over 14 new dives to your C-card.
No wasted time. Once you're on the liveaboard, you can forget about booking flights or boats to your next destinations. You'll also be unpacking once, so that's yet another added bonus. Every day when you wake up, you are most likely already at your location and ready to dive.
Increasing your circle of dive buddies. On a liveaboard expedition, you will meet divers from all around the world. Since you have at least one thing in common – the love for scuba diving – socializing between dives is easy, and you may even make new friends.
Night diving made easier. Not all land-based dive operators offer night dives, so visiting the underwater after dawn is not always easy in some locations. Luckily, night dives are the norm on a liveaboard, and you'll most likely get to experience it at least once during your trip.
Can be more affordable than resort diving. Opting for a liveaboard in pricier locations such as the Maldives can make more sense to the budget-conscious traveler. It is possible to get a way better deal on a liveaboard if you book in advance or if you get your hands on an attractive last-minute offer.
Types of Liveaboards
Liveaboard fleets are made up by boats of all shapes and sizes. While many divers will choose a liveaboard boat based on destination only, each vessel has its own advantages and disadvantages as you can enjoy different onboard facilities based on the type of boat you choose. Here are the most common types of liveaboards:
Steel hull – These boats are a popular choice for liveaboard operators, being strong and stable even in choppy waters. They are used to reach remote dive destinations throughout the world such as the Galapagos Islands and Socorro Island, with a variety of safety features, great facilities, and rather spacious rooms.
Catamaran – Catamarans are multi-hulled boats that usually cater to smaller groups of divers. They can cruise and anchor in shallow areas such as atolls and islands where other boats may have difficulties reaching. Catamarans are also known to be more stable than other types of liveaboards, so even people prone to seasickness may feel comfortable enough on one.
Sailing yacht – Also suitable for small groups, sailing yachts are great for combining diving and other watersports with activities on land. They are perfect for exploring groups of islands such as the Maldives and Seychelles.
Phinisis – These traditional Indonesian sailing vessels were originally used to carry spices and textiles in the ancient times, but they are now popularly used for cruising. Thanks to the shape of their hull, they offer smooth sailing and limit motion sickness. Phinisis travel to some of the best diving destinations in Indonesia such as the Raja Ampat archipelago.
Expedition ships – These large ships are built to withstand even the roughest sea conditions and reach the truly untouched environments on Earth. Expedition ships are usually used for trips to the Arctic and Antarctica and cater to the needs and wants of ice divers, nature photographers, and scientific researchers, among others.
Popular Liveaboard Diving Destinations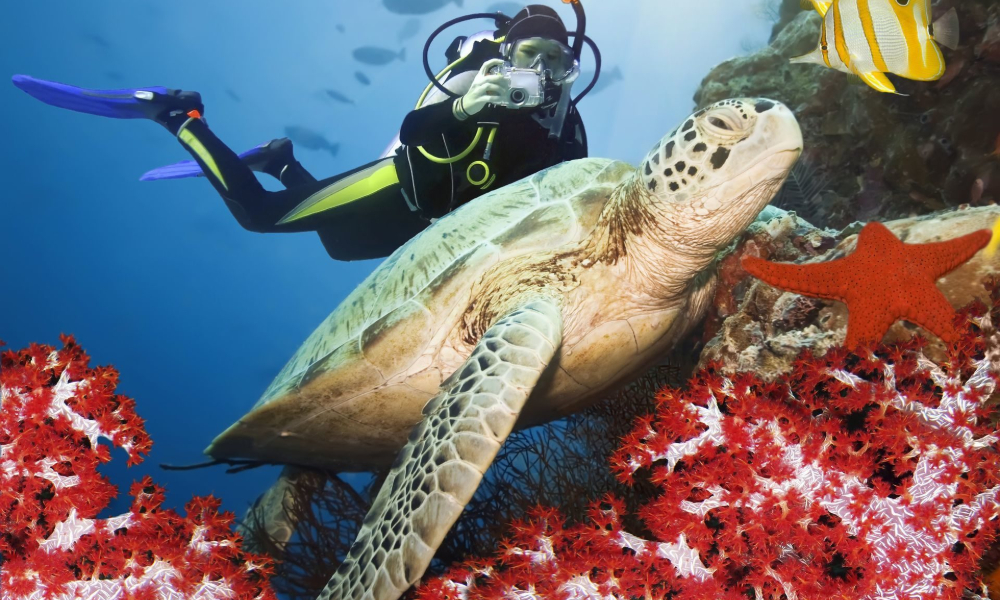 Galapagos Islands, Ecuador
The Galapagos archipelago is a dream place for most scuba divers, with some of the best dive sites on the planet and incredibly diverse marine life. The islands, however, are located over 1000 km (600 miles) from mainland Ecuador, so day trips are out of the question. There are also no flights available to these remote, uninhabited islands. Marine iguanas, whale sharks, hammerhead sharks, Galapagos sharks, manta rays, and eagle rays are some of the amazing creatures you can encounter here. The archipelago is recommended for advanced divers because of the strong currents, deep dive sites, and colder water.
Galapagos liveaboard season: Year-round. Whale shark season is from June to November and manta ray season starts in December and ends in May.
Raja Ampat, Indonesia
Raja Ampat is a paradisiac archipelago located within the so-called Coral Triangle, an area of incredible biodiversity that contains over 500 species of reef-building corals. While there are other ways to visit the islands, as they're not as remote as other liveaboard destinations, there's so much too see in the region that it would be too much of a hassle to rely on ferries and speedboats to get you from island to island. Dive safaris usually last for at least six nights, and some of the highlights of the trips include manta rays, wobbegong sharks, reef sharks, pygmy seahorses, and schooling barracudas.
Raja Ampat liveaboard season: October to April.
Cocos Island, Costa Rica
Located 550 kilometers (342 miles) from mainland Costa Rica, Cocos Island's dive sites have managed to remain largely undisturbed and is now one of the best liveaboard destinations in the world. Besides the numerous bucket list pelagic species such as hammerhead sharks, whale sharks, giant manta rays, and stingrays, there are some other 300 different species of fish that should get you excited about visiting this remote island that was designated a marine national park in the late '70s. And the only way to get to Cocos Island is via liveaboard.
Cocos Island liveaboard season: Year-round.
The Maldives
With its 26 natural atolls, the Maldives offers one of the best tropical diving experiences. Liveaboards are a convenient way to discover the various areas of interest for divers. The crystal-clear waters surrounding the islands are home to reef sharks, manta rays, whale sharks, as well as smaller creatures like the colorful and photogenic nudibranchs. Many of the liveaboard itineraries include the Ari Atoll and the two Male Atolls, which is where some of the best diving in the Indian Ocean takes place.
The Maldives liveaboard season: Year-round, but the seas are calmer between December and March.
Is Liveaboard Diving for You?
If diving two or more times a day, visiting new spots (almost) every day, and being in the company of like-minded people for the whole duration of your trip doesn't sound too bad, then liveaboard diving should be a great choice for you.